SHOWGOON
---

---
Next level content creation
Your personal virtual TV studio
In a television studio, camera images, feeds and insertions combined to a television program. As a virtual television studio SHOWGOON is exactly this for the streaming world. The team behind Showgoon consists of business, technology, software and marketing experts.

---
The WOW-Facts
---

---
WHAT MAKES SHOWGOON STAND OUT OF THE CROUD?
---
THE
NEW

CLOUD-BASED STREAMING TOOL
FOR EVERYONE!
---
It's a virtual studio where many streamers can be connected as actors and which allows a complete broadcasting process.
The broadcasting process can be planned in advance and started automatically at a certain time - the streamers don't have to worry about anything.
CLOUD BASED, INTUITIVE & TRENDSETTING
---
EASY STREAMING FOR EVERYONE
It's a hassle-free way of streaming. The set up is very straight forward and easy to understand. In a few minutes you're ready to stream.
STREAM TOGETHER ALL OVER THE WORLD
Combine webcams, from multiple Users, mobile cams, desktops screens, game consoles or any RTMP-stream from anywhere in one stream.
EARN MONEY FROM THE VERY FIRST STREAM
If you're using one of our sponsored layouts, you're getting paid for it dependent on the size of your audience.
AUTOMATIC PLAYOUT
You can use Showgoon as your production manager and set up anything in advance. While you are on air, Showgoon switches through your program sequence by itself.
CLOUD BASED
It's performance friendly and ready for the future by integrating your gameplay directly from cloud gaming platforms.
MULTIPLE OUTPUTS
Stream to several streaming platforms at once, or stream to different channels on the same platform, or simply mix it up any way you like.
Instant delivery
SHOWGOON is an innovative cloud based streaming tool
that acts as a link to all streaming platforms and enables automated delivery.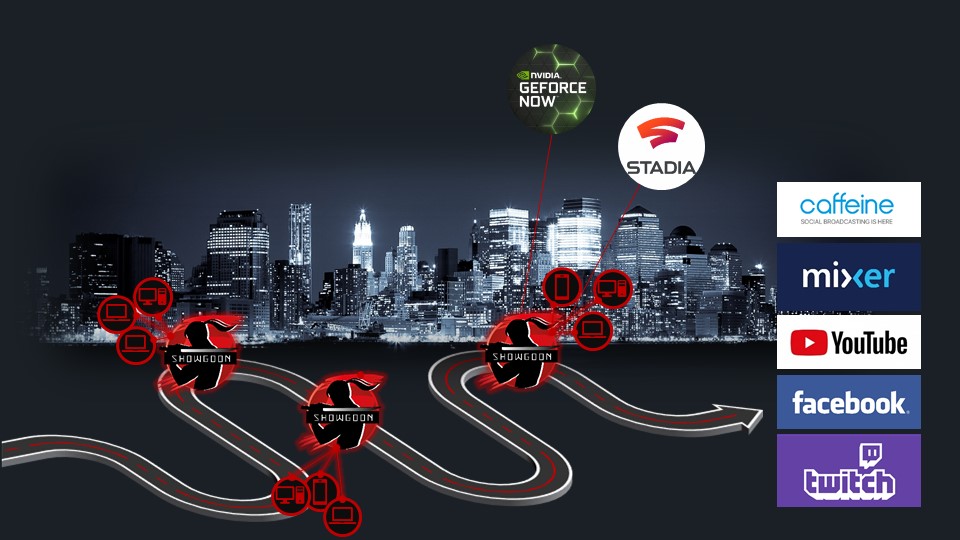 Next level content creation is possible in all these areas

GAMING COMPETITIONS

VIRTUAL FOOTBALL GAMES

JUST TALKING

LEARNING AND KNOWLEDGE BROADCASTS

WEBINARS AND TRAININGS

FITNESS AND LIFESTYLE CLASSES
Get in touch!
---
---
SHOWGOON allows ALL to earn Money. Get in touch with us to learn more.