SHOWGOON
---

---
Next level content creation
The personal and virtual TV-Studio for your home
In a TV-studio, pictures from cameras, clips and advertising are combined to a TV-program. As a virtual TV-Studio, this is what SHOWGOON offers for the world of streaming. The team behind SHOWGOON consists of experts for business, technology, software, esports and marketing. 

---
The WOW-Facts
---

---
WHAT MAKES SHOWGOON UNIQUE?
---
THE
NEW

CLOUD-BASED STREAMING-TOOL FOR EVERYBODY
---
SHOWGOON enables various streamers to join together easily as live-actors. With clips already produced and advertising, the production of full broadcast flows can be realised.
The broadcast flow can be pre-planned and can be automatically broadcasted within a certain time-frame. The streamers can so completely focus on their game.
CLOUD-BASED, INTUITIVE & TRENDSETTING
---
EASY STREAMING FOR EVERYBODY
The arrangement is easy to understand, quick to realise. Within a few minutes, you are ready to stream.
STREAMING TOGETHER WORLDWIDE
You can combine webcams from different users worldwide. The camera signal can be taken from your smartphone, from your desktop or from your game console. It is then combined to one stream.
EARN MONEY WITH YOUR FIRST STREAM ALREADY
If you use one of our sponsored layouts, you get paid according to your range.
AUTOMATIC BROADCASTING
You can use SHOWGOON as your production manager and arrange for everything in advance. During broadcasting, SHOWGOON manages automatically your pre-arranged program sequences.
CLOUD-BASED
SHOWGOON is powerful and ready for the future. No need of high performance of your device. Everything works in the cloud and without pre-installed plugin.
MULTIPLE OUTPUTS
You may stream at the same time on different streaming platforms, you may stream on different channels in the same platform – or you can mix. As you like.
IMMEDIATE DELIVERY
As an innovative, cloud-based streaming-tool SHOWGOON works as a link to all
streaming platforms and enables a multiple and automatic broadcasting.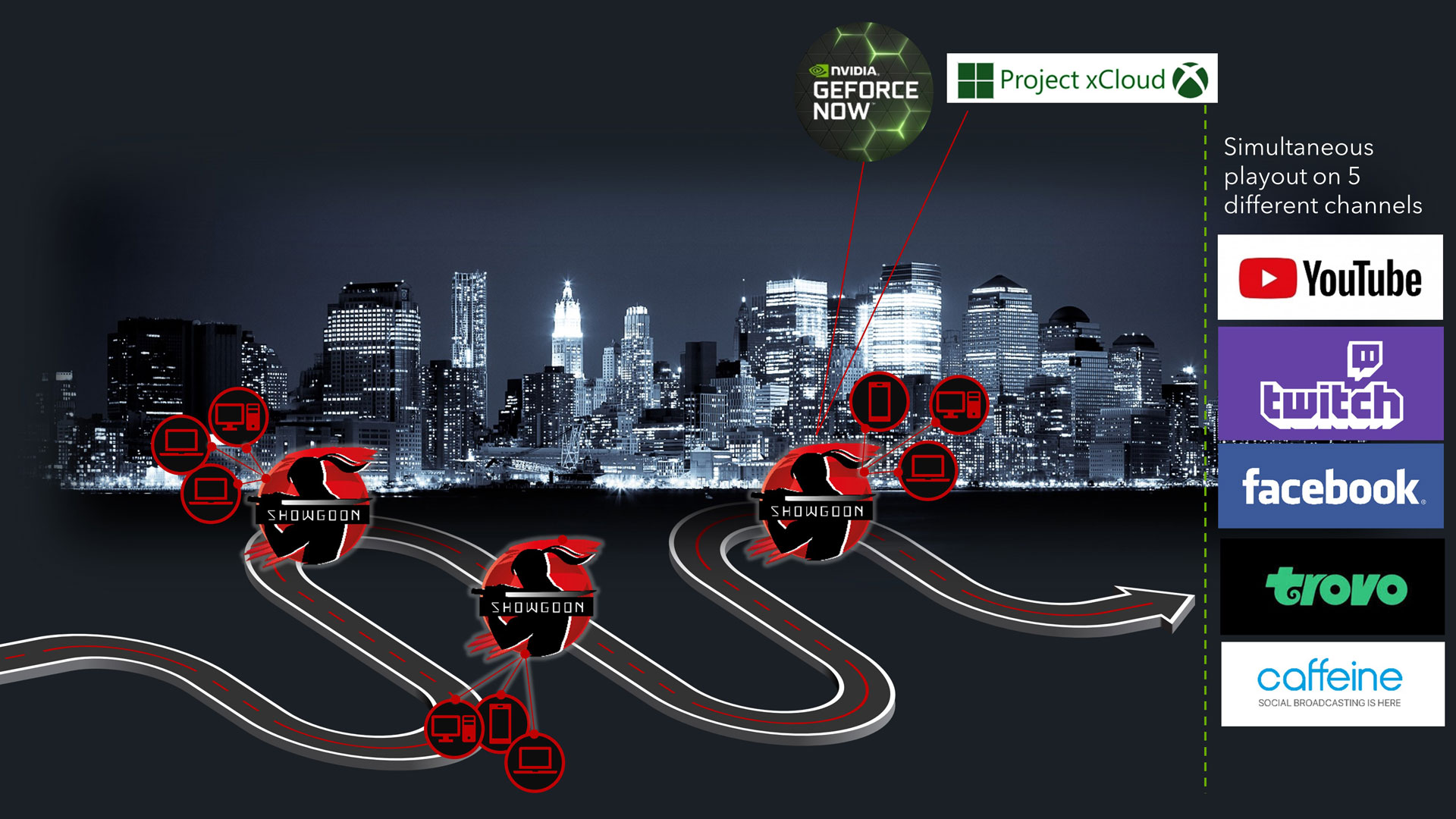 Next level content creation for different areas

GAMING COMPETITIONS

VIRTUAL SOCCER GAMES

JUST TALKING

KNOWLEDGE-BASED STREAMS

WEBINARS AND TRAININGS

FITNESS AND LIFESTYLE
Get in touch!
---
SHOWGOON enables everybody to earn money with streaming.
Get in touch with us to learn more.
---
---